"The greatest asset of a company is its people" – said Jorge Paulo Lemann, a Brazilian billionaire investment banker, and businessman. And when you start thinking about what makes any enterprise the best place to work, it's hard to disagree with him. 
There are many different ways of attracting potential employees and convincing them to join the company because each boss has their own vision of the perfect team:
some of them keep promising financial improvement after accepting their offer;
others are tempting employees-to-be with the possibility of working with the most creative projects;
there are also superiors who think that the most important thing is a chance to develop, and join professional workshops. And it would be a lie if we said that we don't support this approach.
But what if we combined all of these crucial aspects and added something more? What if there would be a possibility not only to work in a friendly, well-organized team but also to choose who exactly you could work with?
That's a chance given by referral programs. Check out how it works and meet the perks of joining the "Bring Your Buddy to Codete" campaign.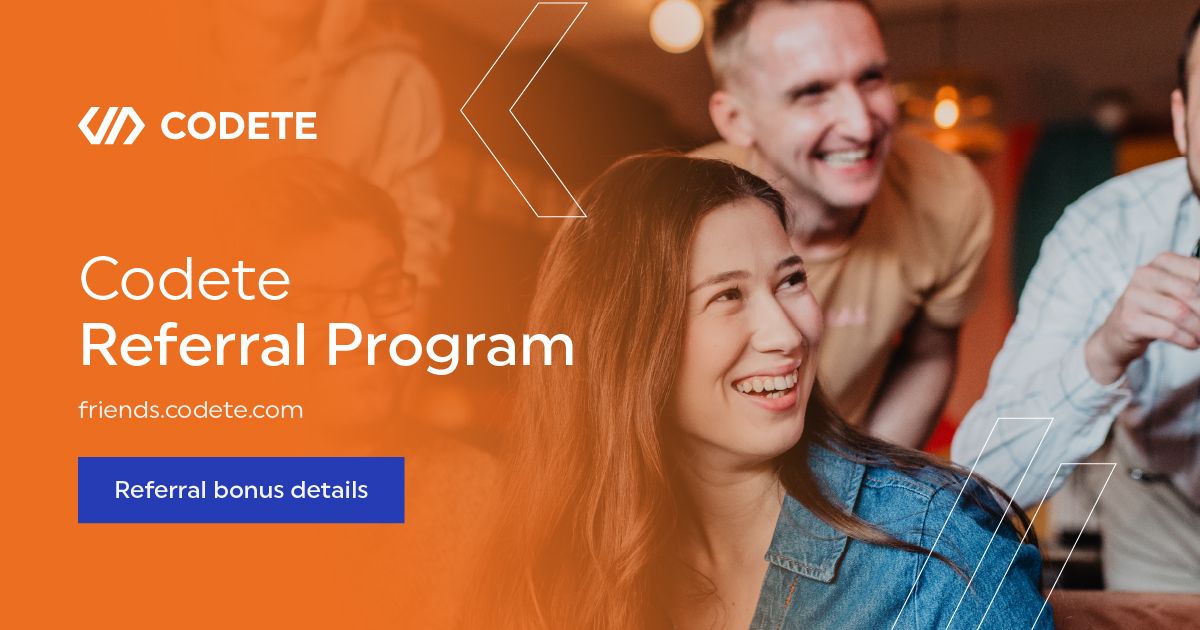 "What matters the most in the referral program, is a friend"
I've heard this sentence once while working on one of the projects at Codete, and it stayed with me until now. As much as the circumstances have changed during these last 2 years, so has people's way of thinking while looking for a job, too. It's more and more visible that a positive atmosphere at work gives the employees a real boost of energy and reasons to work.
An average period of working at one place has dropped off radically, and today's generations of the 20s, 30s and even 40s are less and less afraid of starting searching for a better option if the current company doesn't meet their expectations.
At Codete the situation is different. With 12 years on the market, we can boast of employees who have been with us from the very beginning. There are also many people who decided to join us because of their friends' recommendations, and that's what makes Codete a really great place to work. "Codete starts with you" is not only an empty phrase, but it's a way of operating a company that brings visible results.
Meet the latest idea which is the "Bring Your Buddy to Codete" referral program to feel the vibes of an IT JOB.
Better together
The idea of this campaign appeared as a result of many hours of discussions with the whole Codete team. Throughout the whole pandemic period, we were looking for a way of making our company a better place to work. 
What troubled us the most, was a sense of solitude and isolation while working locked in our home offices. We figured out that even the longest video call will not be a substitute for a real, face-to-face coffee break in the office. 
"What really matters is people. And it's them who should be taken care of the most if we want to keep Codete's uniqueness."

– Grzegorz Śmiałek, Codete's Managing Director & co-founder

The pandemic situation was also favorable for making marathons of favorite TV series and movies, so many of us decided to re-watch the iconic "Friends" at that time. The characteristic opening theme, well-known scenes with bringing the couch up the stairs together, and famous quotations – that all brought us to the question: "What if we could make such a FRIENDly atmosphere at the Codete's offices?". 
The solution seemed to be obvious – because who could recommend better employees than people who really know them? "Bring Your Buddy to Codete" – that's a sentence that became the leitmotif of our referral program. And soon all the teams started making it happen.
How to bring your buddy?
The rules of this campaign are as easy as 1, 2, 3:
Think of any friend of yours who could prove themselves in one of our mid or senior developers positions.
Visit: friends.codete.com and fill in an online form with their personal details.
Send it to us and don't forget to inform your buddy that you've submitted them. ;)
Have your fingers crossed, because soon your mate's phone may ring and bring good news.
 
At Codete, we think that you don't have to work with us to know people tailored to our expectations. That's why "Bring Your Buddy to Codete" is an initiative open to everyone. Send your friend's recommendation and join them too, so you'll have a chance to create a perfect team soon.
Get to know more about the IT Recruitment Process at Codete in a Nutshell and be perfectly prepared for receiving a job offer that suits you.
Where to search for job opportunities?
As one of the most modern and well-known software houses in Poland, at Codete we're doing our best to keep in touch with our clients, employees, and followers. That's why we have plenty of social media accounts that are being updated regularly, so if any vacancy appears – you will know about it for sure.
The best way of finding your perfect job position is by visiting the Codete Career bookmark on our official website. While filling in an online form on the "Bring Your Buddy to Codete" referral program's website, you'll be automatically transferred to this online database.
There are also plenty of announcements posted on our Linkedin and Facebook profiles, as well as on the professional IT job portals.
What makes Codete's recruitment process special?
If you already know how to recommend your friends and where to find job offers, take a look at our recruitment process.
To make is as simple as possible for you, we've decided to list just 5 key points, because we really feel like they make us worth joining:
Clear rules and fair expectations – salary ranges, specific list of duties, details of cooperation. You will find all of this in our job offers, so from the first day of recruitment, you'll be given a lot to start with.
Any time is good for your questions – if you feel that something is unclear, don't hesitate to ask. Do it during the interview or just drop it in the mail (jobs@codete.com). We won't leave you without an answer for sure.
Work with us and develop with us – what if your professional skills have charmed us, but we all feel like your English level could be better? At Codete we stay open to our employees' needs, and that's why we provide them with a chance to improve their language level during regular online English classes.
Online job interview and remote onboarding – at Codete we appreciate personal meetings, but we also know that talented employees can be found all around the world.
Codete Evaluation Report – no matter what the result of our interview will be, you'll receive feedback from us. That's what CER was designed for. This document will let you figure out your strong and weaker sides, so you could work on them and get ready for another recruitment process. Codete Evaluation Report contains 2-4 A4 pages of the tech and HR recruiters' insight.
Meet us before you apply for a job (or refer)
Try to imagine your perfect job. What would it be? No matter in which sector you feel the best, a chance to give it a trial before signing a contract would sound cool, right? And even if Codete's trial period lasts 3 months, there's still a possibility to give our atmosphere and software house vibes a go before making any decisions. How?
Join our Techie's Space initiative and get to know more about the everyday tasks of our employees. Meet professionals, grab a beer, and let's talk about… Whatever interests you!
Follow our social media and be up to date with what we do after work. Creative workshops? Board games' evening? Common Wednesday breakfast in the office? Soon you can join us!
Do you see yourself as a copywriter or developer? Or maybe someone completely different? All the topics we're working on can be found on our blog.
Chill & feel Codete's vibes at our Techie's resto-bar. Use some promos, try a constantly changing lunch menu, and what is it about with the 80s and 90s geek-friendly atmosphere.
Become a Codeter!
At Codete we think that referral programs are the best way to create a well-integrated, effective team It gives profits to everyone: 
You have a financial bonus and friends close.
Your buddies – new, challenging job and contacts.
Us – the best team, results, and atmosphere
Only a few steps are enough to join Codete's Referral Program. Recommend your friend and boost them to take the first step on their new, professional path.
Just Take Your Buddy to Codete!