Product Canvas is a simple yet effective tool for assisting the transition from a product idea to implementation. It was designed to streamline the process from gathering ideas through identifying requirements to creating an action plan for product development.
According to Roman Pichler's original concept, Product Canvas offers the capacity to replace a traditional product backlog. This tool makes it simple to identify the target audience, collect essential functions and define what the user will experience. 
In this post, we'll take a closer look at what the Product Canvas tool looks like and how you can use it.  
Table of contents:
What a Product Canvas is all about
Developing a new product for the market or a brand new feature within the existing application may not be a straightforward task to complete. In a standard software development cycle, you'd go through all the phases of planning, analysis, and design, implementation based on a (pre-defined) backlog, testing, market launch, and maintenance. 
However, due to its linear structure, this approach can make it difficult to capture all aspects of the product, such as the target group or the big picture (we'll get to that later). To address this issue, Roman Pichler proposed a simple but effective tool that allows you to focus your product planning on user experience while reducing many unnecessary actions.
You may be wondering what the difference is.
Product Canvas is based on discussion. Before creating any product roadmap, backlog, or even raw sketches, at least one workshop session is held to develop a general picture of the product. In the traditional approach to product management, these initial steps are frequently kept to a bare minimum because they are considered a waste of time. Product Canvas, on the other hand, is focused on stating assumptions about the target audience - the product's users - and prioritizing their needs. This is why various stakeholders place a strong emphasis on discussions and shared understanding of various product-related aspects.
The workshop(s) should include product specialists like UX/UI designers, developers, and business analysts who will be creating the actual product but at the same time, it would be useful to invite also decision-makers representatives, i.e., product owners, managers, or company management. Keep in mind that all pre-selected participants should have at least a basic understanding of why you want to create a given product and how it can benefit the business.
The Product Canvas and its layout
The Product Canvas evolved from the well-known Business Model Canvas template. In 2005, Alexander Osterwalder developed nine "building blocks" that can be used to describe (and detail) almost any existing business model exhaustively. These blocks were later arranged in a rectangle frame to form the so-called canvas.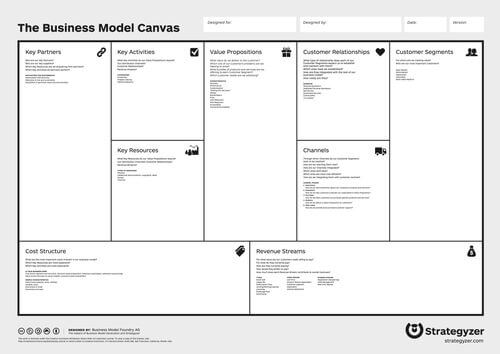 As demonstrated by the template, the Business Model Canvas enables you to examine your business from a variety of angles. Take a closer look at the Value Propositions - which is in fact dedicated to your product (and/or service). This is the very foundation of Pichler's concept, elaborated in greater detail within the Product Canvas.
Which, by the way, is made up of six parts: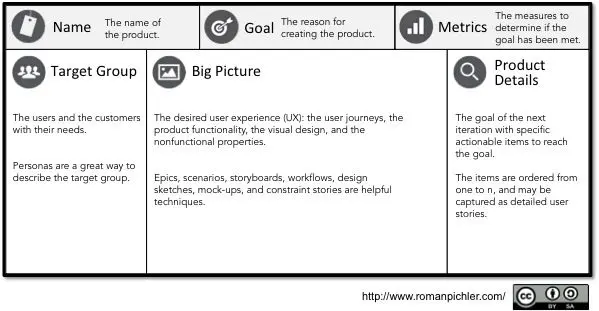 Product Canvas is intended to help you get started on your product idea, not to determine whether or not it should be built. At this point, you should have an answer to this question as well as a vision for the value proposition you are attempting to make with your product.
This usually boils down to answers to three top subjects from the canvas:
Name - of your product
Goal - the reason you are trying to create your product i.e. problem solved, value it creates for users
Metrics - how will you measure whether the goal of your product was achieved? Numbers are more than welcome here.
When you have answers to the above questions and have assembled your product team, you are ready to begin the workshop. The author of the Product Canvas recommends having a copy printed in full color and prominently displayed in your workshop's workspace. You can download a free copy from the official source, the Canvas Model Design iPad app, or simply recreate the canvas in your preferred electronic tool.
Target Group
Think about your potential customers and try to describe them. Who will be interested in your product? Why? A user profile(s) can be created based on their age, education, needs, and location. In this section, Roman Pichler suggests creating user personas. You can adopt Roman's template for it, use any form available on the internet or simply create it by yourself.
Big Picture
Now focus on the requirements of your potential users. These will have a significant impact on the main features of your product, which you will elaborate on in this section. The product's main features should then be mapped to its user interface.  Remember to focus on the User Experience - a graphic/UX designer should have a lot of work in this part of the exercise.
There are various tools you can use in this exercise - either from the agile spectrum like epics and scenarios or simple design sketches, wireframes, and mock-ups. Non-functional requirements that affect user experience can also be captured for instance by using constraint stories.
Product Details
Finally, you proceed to Product Details. This is the final step before diving into the development of your MVP application. Think about how you can break features into tasks and work on them collaboratively. This task list can include user journey diagrams, user stories, or simple scenarios illustrating how users are likely to interact with the product. Anything that helps you define tasks is a good choice.
By utilizing Product Canvas in this manner, you can center your product development process on the user. This will almost certainly result in a useful product that your potential customers will appreciate. Consider giving it a try and observing how it works for you. Do not be afraid to make adjustments that benefit you and your team. The template is meant to be modified based on the circumstances and product you are attempting to create.
Additionally, feel free to apply all of the preceding steps iteratively throughout the application development phase. Canvas is a tool that can be used prior to coding as well.
Product Canvas in conclusion
As Roman Pichler puts it, "the Product Canvas brings together key pieces of information necessary to create a new product: the users and their needs, the product's functionality, and the user interaction". It is intended to be a collaborative tool that assists you in expressing, testing, and integrating your ideas and assumptions.
As with all tools in the Agile landscape, the Product Canvas is just an instrument. It is a handy template for product discovery, especially in cases in which you have no idea what the user will say or how each stage of the app development process will unfold. At the same time don't expect a successful outcome just by applying the template. It will give you, the product team, and all the stakeholders a useful framework for your workshops but how you conduct them and what you come up with is a completely different story.
If you're interested in learning more about this subject visit Roman Pichler's blog. Other forms and proposals for working with the team and the product can be found under the Tools tab. Linked materials are available for both professional and personal use.