Many people believe that IT is a male-dominated field – and they're right, the statistics confirm it. But if you think that women played no role in the history of programming, you're making a huge mistake. 
Did you know that women played a key part in the history of computer science and software engineering? Computers and the internet as we know them wouldn't exist without the contributions of these talented female software engineers. 
Sadly, women's contributions to the tech industry are often downplayed, overlooked, or simply ignored by history. We wrote this article to unveil the secret history of women in programming. 
Table of contents:
A short history of women in IT
Ada Lovelace and the world's first algorithm
Women were part of programming history right from its very inception. The first figure we need to mention here is Ada Lovelace, the daughter of the English poet Lord Byron. Unlikely to follow her father's career in literature, Ada chose to study mathematics instead.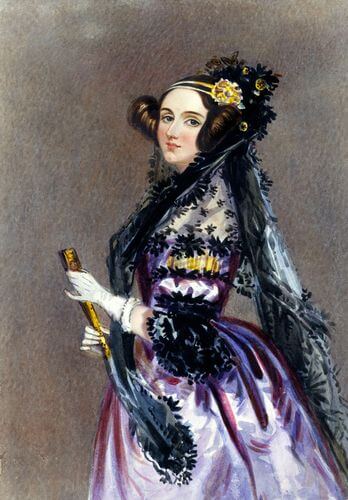 In 1832, Ada Lovelace met Charles Babbage, who showed her some paperwork where he explained the working of a computational machine he was planning to build. She wrote about Babbage's work for a scholarly journal – and by then, she already envisioned a future that Babbage never considered. 
What's more, she wrote instructions using a complex sequence of numbers used to load into the machine. This was the world's very first algorithm! While Babbage's machine was never realized, the paper written by Ada Lovelace was used a century later to build the first computer. 
The ENIAC women who were called "computers"
Meeting a female mathematics graduate wasn't a rarity in the 1930s United States. During the Second World War, the US assembled a team of 80 women who were actually called "computers." Their job was to manually compute complex ballistic trajectory equations for the American army. 
Among them were six bright young women: Kathleen McNulty Mauchly Antonelli, Jean Jennings Bartik, Frances Snyder Holberton, Marlyn Wescoff Meltzer, Frances Bilas Spence, and Ruth Lichterman Teitelbaum. They were selected to program the ENIAC machine.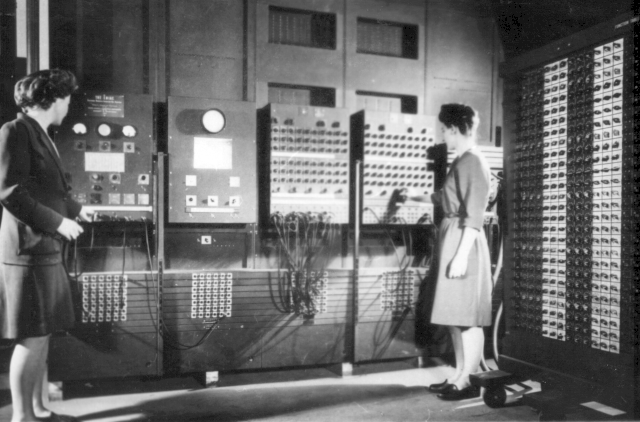 Note that to accomplish the daunting task, these women didn't use any programming tools, manuals, or languages – simply because none existed at the time. Instead, they programmed using tables and logical diagrams. Once they were done, the ENIAC could run ballistic trajectories in mere seconds. You can only imagine how this impacted the course of the Second World War. 
Decoding secret messages: The Wren Colossus operators
The Colossus was built in the UK to break the code for secret communications sent by Japan and Germany. The code-breaking facility was located at Bletchley Park, nearby London. Why is this relevant to our story? Because the operators of the Colossus were selected from the women's branch of the Royal Navy, Women's Royal Naval Service, commonly known as Wrens. 
Without their work, the Colossus wouldn't help the British army to decode thousands of messages. It's estimated that intelligence obtained at Bletchley Park shortened the war by at least two years, saving hundreds of thousands of lives.
The Manhattan Project wasn't just about Oppenheimer: Grace Hopper
The Manhattan Project was a research and development program held by the United States to build the atomic bomb. Women played a key role in various aspects of the project. For example, the Mark I was a computer adopted for the Manhattan Project to calculate differential equations. It was programmed by Grace Hopper, another great figure in the history of women in programming.
Just like Ada Lovelace, Grace Hopper was supported on their path to higher education. She received a Bachelor's degree in mathematics in 1928 from Vassar College and then a Master's and Ph.D. in mathematics and physics from Yale in 1934. Back then, she was one of the very few women who achieved such a double degree. 
During the Second World War, she joined the US Navy Reserve and served as one of the Harvard IBM/Mark I computer programmers. After the war, Hopper proved herself to be a real visionary. She helped to create the UNIVAC I, the second commercial computer manufactured in the US that played a key role in the Apollo missions.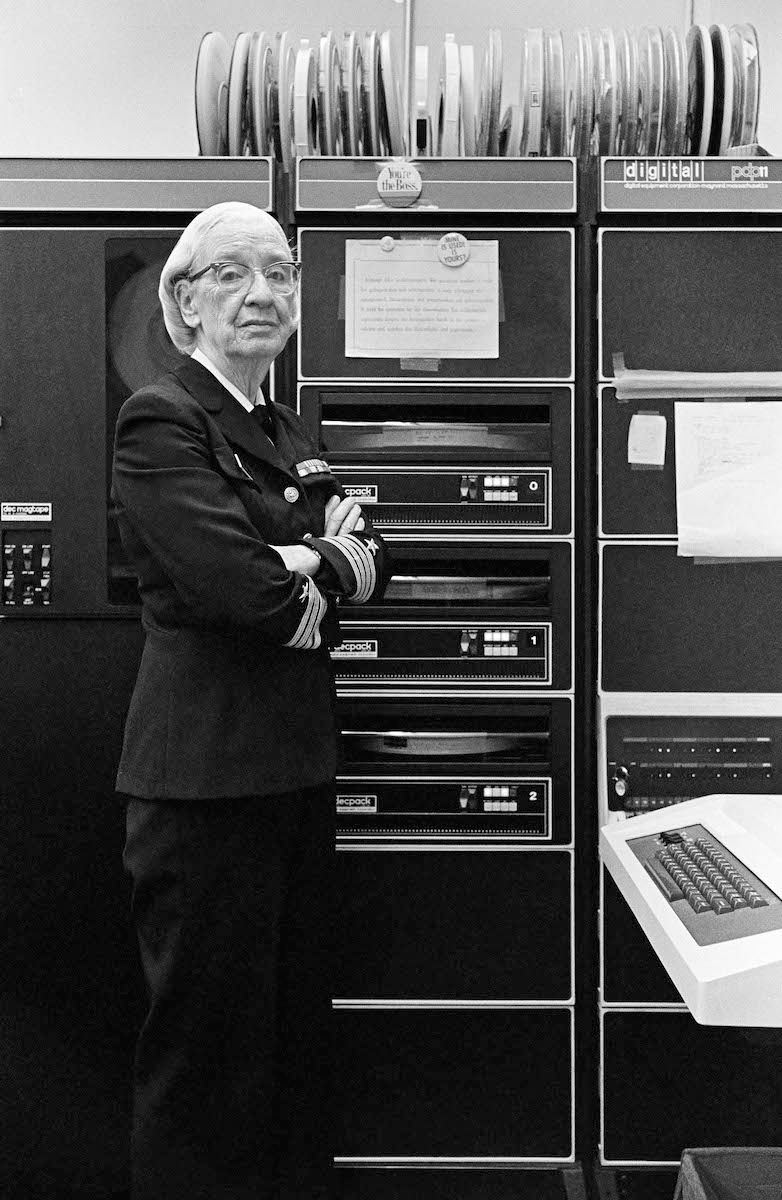 While busy with UNIVAC, Hopper created the very first compiler – a tool that transforms source code from one language to another. Thanks to her work, developers today can use natural language instead of numbers when coding, which makes programming much more practical and accessible. 
But this is just the tip of the iceberg when it comes to Grace Hopper's breakthrough achievements that changed the history of computer science. In 2016, President Barack Obama honored her posthumously with a Presidential Medal of Freedom.
Going to space would be impossible without women 
Women also played a significant role in the work of the National Advisory Committee for Aeronautics (precursor to NASA). Between 1943 and 1918, several hundred to thousands of women were part of the computer space program at Langley Memorial Aeronautical Laboratory, including a total of 80 African Americans.
It was these women who calculated flight trajectories that helped to safely return the crew of Apollo 13. The United States made its achievements in space travel thanks to their work and talent. Some of the names behind NASA's success include Katherine Johnson, Dorothy Vaughn, Mary Jackson, Margaret Hamilton, Christine Darden, and Annie Easley.
While all of these women made incredible contributions to computing as part of the space program, two of them stand out, namely Margaret Hamilton and Katherine Johnson:
Margaret Hamilton – Margaret Hamilton developed the onboard guidance software that included a priority system that removed less important tasks while operating the code. In the 1960s, she was a programmer at MIT writing code used for the first portable computer with her colleagues. She pioneered the very concept of software engineering. She continued to work on manned and unmanned missions for NASA and served as the director of the Software Engineering Division at the MIT Instrumentation Laboratory.
Katherine Johnson – Depicted in the film Hidden Figures (2016), Katherine Johnson was an American mathematician who developed calculations of orbital mechanics that were critical to the success of the first and subsequent crewed spaceflights. During her 35-year career at NASA, she was known for mastering complex manual calculations that helped to pioneer the use of computers to perform many of such tasks. The space agency emphasized her "historical role as one of the first African-American women to work as a NASA scientist."
Women in IT – key trends and statistics
How to start a career in IT – practical tips from women who work at Codete
Are you a woman looking to launch a career in the tech industry? To help you out, we asked our female employees for a few pointers. Here's what they told us about kicking off their careers in IT.
Explore the tech industry to learn how it works
"Probably the hardest thing when you're taking your first steps in IT is that there are so many different paths and the confusion that often comes with a question: ''Am I even learning the right thing?". What I personally found extremely helpful at the beginning, was getting to know the industry - how everything works, what tech stack is required for which role, who is responsible for what in the process of developing a product, and what seems to be the best fit for me. Try not to rush into learning whatever you come across, take your time to get to know the big picture.

When you feel like you've found something that sparks your interest, it goes without saying that there are some basics that you have to get yourself familiar with first - in every technology. For me, though, there is no better way to learn them than to dive in by trying to build something yourself. Yes, you may get stuck at some point. You may feel hopeless or be ready to throw it all away. That is a normal thing. But in the end, you will learn a ton with every problem you encounter, and trust me - you will become more confident with every solution."

– Agnieszka Gębuś, Software Engineer at Codete
Check what skills companies are looking for
"My first step to becoming a frontend developer was studying job advertisements to learn what kind of knowledge employers require in junior-level job positions. I ended up with a lot of skills! I realized that I need to master them all at a level that would allow me to get started in my job search. Instead of feeling overwhelmed and discouraged, I decided to focus on the positives – the fun I was having while solving logical problems and facing new challenges.

The good thing is that the internet is full of free resources you can use to get started. But not all learning resources out there are great. So, take your time while searching for learning resources and check out forums where people recommend the best courses, websites, and books about the technologies that interest you.

I also attended local meetups where I could talk to people with years of experience in my dream job. This is a great occasion for verifying your skills and finding mentors who can give you lots of useful advice about coding but job hunting in the tech industry."

– Natalia Borowska, Software Engineer at Codete
Find your superpower
"My first job after graduation was at a helpdesk in a software company. To get it, I had to demonstrate good language skills (the job was in English) and show some general computer literacy. Initially, my tasks revolved around communication with clients, mostly over email, and performing simple computer tasks based on existing procedures. But at the time I already had some basic programming skills and leadership experience from my voluntary work, which soon allowed me to become a team lead of our second-line support team. 

Unfortunately, then came a group lay-off, and I had to look for another job. What seemed hard at first, in the end triggered positive changes. I sat down and listed my skills and the responsibilities I had, focusing on the ones that I felt confident in. That's how I discovered that talking with clients and translating what they say into tech is my superpower. This drove me to the conclusion that being a business analyst would be a perfect job for me. 

Later on, I have worked in several IT positions: business analyst, product owner, and project manager. The competencies that I mostly use in my daily work are: people and communication skills, analytical skills, leadership skills, and understanding technology. To start, I think it's crucial to find any job in IT – at any cost – and then find out where you can use your personal strengths and find the exact role that fits you best."

– Paulina Tor, Senior Business Analyst at Codete
Women in tech - wrap up
There's no denying that women stand to play a key role in the tech industry today. However, they still lack proper representation and are usually a minority, especially in the most technical areas of IT. 
If you're looking for a workplace that values people for their skills and doesn't let gender stereotypes affect planning and management, take a look at our open positions. We invite all women to become part of our organization and help us write the next chapter in the history of software engineers – one based on equal gender opportunities and diversity.
And if you have any tips for women wishing to start a career in programming or your own stories to share, don't hesitate to drop us a line in the comments section!