"We always try to find the best technology for a given organization, one that will help it scale and gain competitive advantage." — Artur Olechowski, CEO, Codete
2020 marks a decade on the market for Codete. Using the occasion, we'd like to tell you a little about the beginnings of the company and our philosophy. Let our Managing Director, Artur Olechowski, say a few words about Codete's foundations.  
"Since the beginning, we wanted to create a company of IT professionals for the IT professionals," says Artur. 10 years ago, he and his team identified a gap in the market and decided to fill it. Together with Karol Przystalski and Greg Śmiałek, they established Codete. They knew that to make a difference, they had to be different from other software companies. 
First, they had a startup — and it was their startup experience that impacted the shape that Codete would take in the future.  "There were always some problems with the suppliers, such as: understanding the big picture, huge delays, poor quality, black-box cooperation style with low transparency, little flexibility and ability to embrace change, and skyrocketing costs. We wanted to create a different form of partnership between Codete and our clients."
Now, Codete excels as a market leader for a number of reasons — one of them is the quality of our employees. Second, the team always places an emphasis on the client, which helps to set Codete from competition. "We always try to adjust to the business goals of our clients and unleash their potential," Artur says. "Just as we wish to unleash the potential of our employees."
But you don't have to just take our word for it. We use Clutch, a B2B ratings and reviews platform, to gather feedback from our clients. In our most recent review featured on the platform, our client describes how we helped develop a web platform for a corporate education company.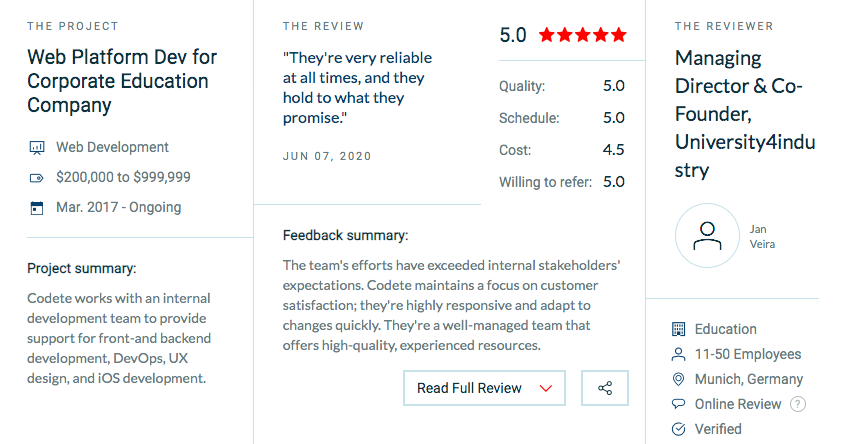 Our dedication to providing tailored solutions left an impression on our client.   
"The cooperation with Codete has fulfilled and exceeded our expectations. The length of the engagement (and no end in sight) speaks for itself. We are a happy customer." 

— Jan Veira, Managing Director & Co-Founder, University4industry
We're proud of our team's hard work and the excellent solutions they've been able to deliver! 
The number one thing that Artur Olechowski attributes to Codete's success? "From our experience, it's key to think client-first and aim to understand your partner's perspective." 
That's great advice for anyone looking to build similar levels of success. In the meantime, head to our profile on Clutch, or look through company listings on their sister site, The Manifest, to see more of what we have to offer. And if you have an IT staff augmentation needs, don't hesitate to contact us today. 
At this point, we'd also like to thank our past, present, and future partners for trusting us — we're here for you!