Most design teams follow a process to organize visual projects. To do so, they employ frameworks, which provide them with a set of instructions as well as a list of tools and techniques to help them achieve a specific goal.
Design Thinking (DT) and Human-Centred Design (HCD) are the two most common types of such frameworks. But what sets them apart, exactly?
Table of contents:
Design thinking – the basic concept
Each and every element of our everyday life has its own unique design. For a long time, the traditional business approach pushed design at the end of the product development process, using it as the aesthetic booster to bring sales up. After several iterations of mismatched products, companies have eventually realized that design thinking should be incorporated into the process from the start – so that practical changes can actually make a difference (not only a label). 
This revolutionary approach allowed the design team to focus on what is best for the user, assisting businesses in dealing with ever-changing market environments. By using a non-linear, iterative process for understanding customers and solving problems, companies can effectively handle situations where the overall challenge is unclear or where problems are unknown.
The new way of thinking is based on the idea that the more effective and practical a project is, the more likely it will become a standard for a specific type of product. As a result, the design thinking process evolved into a synthesis of people's needs, design feasibility, and business requirements.
And, in order to combine those best, the process is divided into five major stages.
Five phases of design thinking process
Design thinking, as a truly creative process, is comprised of non-sequential phases. To make the most of each of them, it's best to return to earlier stages at regular intervals throughout your journey. You can also redistribute your teams to work on multiple stages at the same time.
Phase 1: Put yourself in the user's shoes (empathize)
Empathy is concerned with understanding other people's needs, thoughts, and feelings. It is critical for a fully creative process to be able to set aside your own biases and obvious statements in order to determine exactly what the user wants.
By conducting extensive user research, you will gain a thorough understanding of who we are designing our product for. Each design team should be able to describe the user's profile, which includes basic demographic information, daily challenges, and preferences. Investing time in this phase can provide you with actionable insights and the best understanding of the needs that a new product or service must address.
Phase 2: Create a human-centric problem from your findings (define)
Based on your findings in the empathize phase, your team should now have a better understanding of your users' needs. It is now time to analyze your findings in order to develop a problem statement.
Ask yourselves what your user's actual needs are. Consider your response carefully, as the fundamental issue should be stated in such a way that people remain at the center of its solution. To put this into perspective, during product development, you should prioritize better delivery, more adaptable payment options, or size adjustments over higher conversion or lifetime value per user.
Phase 3: Collect as many concepts as possible (Ideate)
You and your team can now start coming up with ideas as you continue your design thinking journey. Generate ideas by highlighting different user issues and discussing why they need to be fixed. During the ideation phase try to suggest as many ideas/solutions as possible. And remember, at this point even the least obvious, alternative solutions are worthwhile.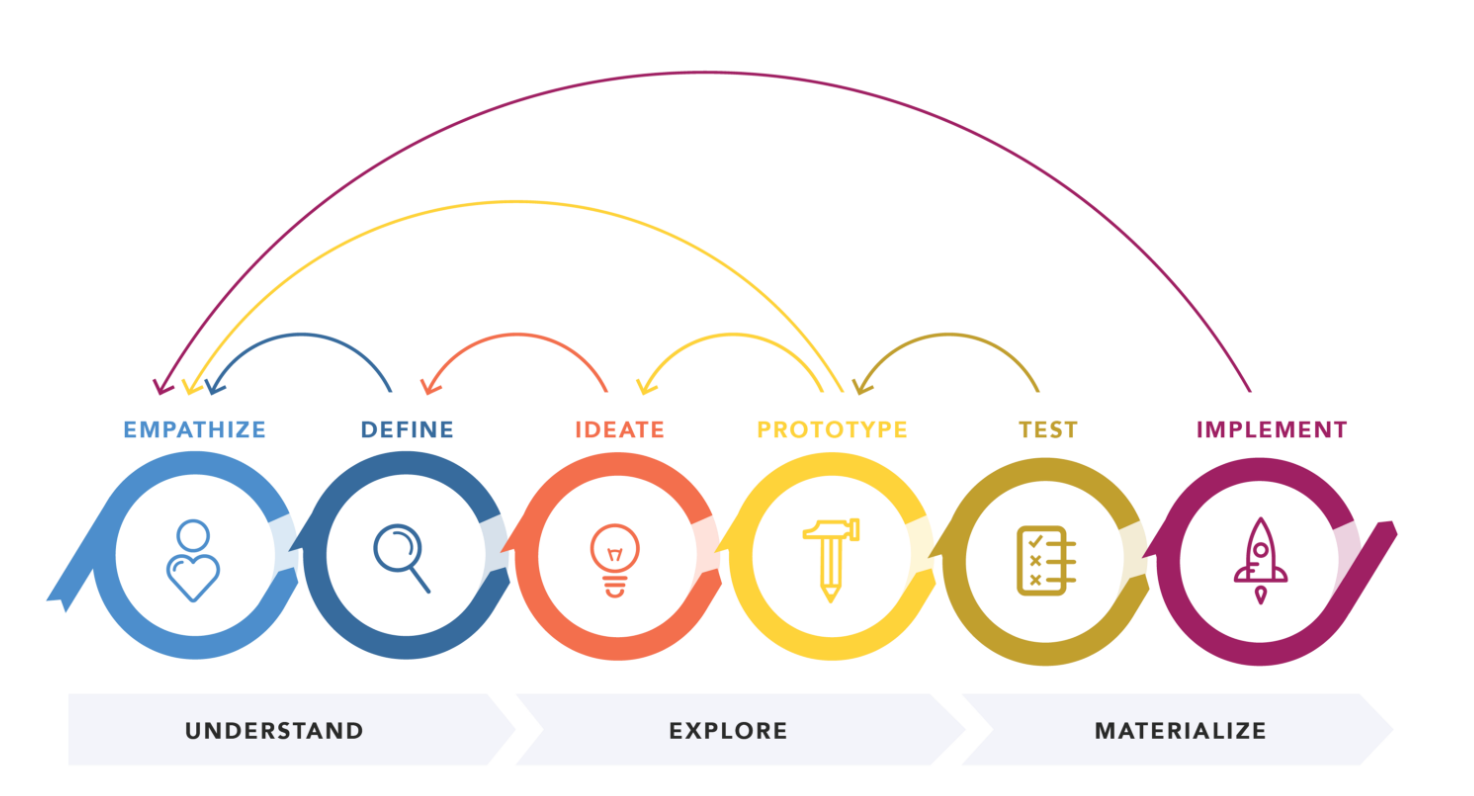 Phase 4: Focus on users' actual needs (prototype)
Thorough prototyping can help you better address the identified user needs and problems. Demonstrate the functionality of one or more of your designs using their simplified, scaled-down versions. A number of features may be implemented sequentially in order for each to be evaluated. They may be rejected if they do not adequately address issues and needs.
Phase 5: Test (and refine)
Because the design thinking process is iterative, the results of testing may necessitate a redefinition of the problems you're attempting to solve for the user. This means that you may need to return to previous stages to refine the product and make it as effective as possible. Returning to earlier stages should not be regarded as a failure.
Human-centered design 
In 1958, Stanford University design professor John E. Arnold proposed that engineering design should be human-centered and focused on positive, long-term change. The concept gained popularity with Don Norman's book, where it was formulated as "an approach that puts human needs, capabilities, and behavior first, then designs to accommodate those needs, capabilities, and ways of behaving" 
Overall, the HCD process aims to include all humans as potential product users. This level of generalization ensures that the final solution makes every user feel as if the experience was custom-tailored to their specific needs and capabilities.
In theory, this should equate to providing innovative solutions to real-world problems or filling a market gap, having the potential to improve the lives of a specific demographic. In practice, this universality, combined with the mindset that the product is being adopted to improve actual lives, has the potential to find millions of customers on the global market. 
To summarize, the main principles of the human-centered design process are:
be people-centered – as you should always think of your general audience;
solve the root problem – create ideas that aim at improving lives rather than inventing new solutions;
everything is a system – think not only about the customer journey and user experience but about the everyday influence of your products on your audience's life. What can you do to make this experience more satisfactory?
simple and small interventions – prototype, test, gather user feedback, adjust.
Companies that use the human-centered approach are often referred to as visionaries because they create solutions rather than products. They frequently test risky ideas that may yield little to no profit, and they set astronomical budgets for innovation. Google, Trello, Apple, Spotify, and Meta can be all fitted into this basket. 
What is the main distinction between human-centered design and design thinking methodology?
Although both design approaches appear to be similar, the most significant difference is in the primary focus of each methodology.
Design thinking is the process of developing solutions, processes, and products to solve complex problems or improve workflow that are easily adopted by specific groups and communities. To do so, DT combines user knowledge, the technical feasibility of the product, and business goals. The process involves learning about a target audience and empathizing with their needs or gaps in services before developing solutions or inventing products that can be used right away and making money from the solution.
HCD extends the concept of design thinking to ensure that a product improves the lives of consumers rather than simply pique their interest. This mindset is based on zooming out to look at a problem or invention in a larger context (making humanity a potential user). As a result, money spent on constant testing and upgrading does not always match the needs - because demand must be created first. However, when your well-researched product finally hits the market, demand is immediate.
---
No matter which product design path you choose, putting your customer first – whether a specific group or the entire population – always pays off. And if you lack experience in creating desirable products that meet the needs of your customers, send us a message, and we'll put together a design team for your next project.