In the new coronavirus reality, people don't only fear for their health, but also for their financial stability. Even the IT industry, which seemed to be thriving just a few weeks ago, has been impacted by the pandemic. Simply because the condition of software houses and software companies depends largely on the condition of their clients. As a result, many IT specialists are now faced with reduced working time or even being let go.
If you're on the lookout for new possibilities and need to find a new job in IT fast, we have a few tips for you.
In this article, you'll find some useful information on how to improve your LinkedIn profile and make it both more visible and more attractive in the eyes of IT recruiters in just a few easy steps. We will include some tips on how to make your CV shine, too. We hope this blog post will be useful not only for the IT specialists but also for everyone else who's searching for a new job, in any industry.
Get a new job in IT fast with a better LinkedIn profile
Let's start with LinkedIn. Here are a few things you should pay attention to:
a neat profile photo
a good headline
an informative summary
a rich Featured section (your LinkedIn portfolio)
a well-described, to-the-point experience
a list of relevant skills
a couple of meaningful recommendations
What should a LinkedIn profile picture look like?
Your LinkedIn profile picture should look professional, but it should also depict you. It's important that you find the balance between looking like a pro and looking authentic. Don't pretend to be someone you're not. If you're wearing casual or smart casual clothes to work, don't wear a suit for your profile picture. You don't have to look executive — it won't score you any bonus points. Make sure your photo is high quality, though.
How to take a good LinkedIn profile picture?
There's plenty of photographers who offer excellent business photo services, so if you have the means and time, you might consider scheduling a visit at a studio. One or two good pictures will serve you for a couple of years. But if you're looking to get a new job ASAP, you should be able to take a decent photo at home, with your own phone camera.
Here are a few things you should remember:
The lighting is everything. Find a place where your face is evenly lit to avoid shadows. Also, bear in mind that even though sunny weather is fantastic, bright sunlight may not be the best choice for taking pictures — it often creates big contrasts, it's much easier to avoid them in moderate sunlight or even cloudy weather.
| | |
| --- | --- |
| This man's face is evenly lit. | Here, half of the man's face is shadowed. |
The background should stay in the background. Most photographers choose plain or blurred backgrounds for business portraits for a reason: they put the subject of the photo in the center of attention. The focus should be on you. If you'd like to go the extra mile, it'd be great if the colors of your background harmonized with the colors of your clothes, hair, eyes, and your skin tone. If you're not sure what colors flatter you, ask your friends or simply google "seasonal color analysis" for tons of free tips.
| | |
| --- | --- |
| The background in this picture is blurred, it doesn't disturb the viewer. | The background in this photo draws a lot of attention. |
Camera settings are your friend. That blurred background we mentioned above, smooth skin (we're all a little vain, aren't we?), well-balanced lighting, vivid colors — your phone camera can help you achieve all that, so why not spend some fifteen minutes a playing around with the settings. If you have a little more time, you may want to try free photo editing apps too, like Snapseed (Android), VSCO (iOS), or Lightroom (both).
| | |
| --- | --- |
| You can tell that this photo has good white balance and contrast. It's easy to fix them in any photo editing app. | This photo is au naturel, and we don't mean the woman's face, but the colors. They could use some brightening and contrast. |
Don't take a selfie. When there's nobody around to take the picture for you, just use the self-timer on your phone. It may require some construction work if you don't have a tripod, but it's really not that difficult — and it's worth it. After all, this photo should help you get hired fast. It's not an Instagram shot.
| | |
| --- | --- |
| If you can't ask anyone to take your picture, use the self-timer in your camera. | A selfie is just unprofessional. No matter how beautiful it is, it doesn't belong on LinkedIn. |
How to write an effective LinkedIn headline?
The best thing about LinkedIn headlines is that nobody can skip them. They show up alongside your name on your profile, in your activities (comments or shares), and in the search results. Your headline is a part of the first impression you make on LinkedIn, so try to squeeze maximum information about yourself into these 120 characters. Remember to include the right keywords so that the recruiters can easily find you.
Instead of writing Software Engineer, you can write: Senior Backend Developer / Scala, Java, Spring / MeetUp Speaker / Tech blogger at mytechblog.com 
The most important thing is to include the job title you're interested in, if you know you're looking for a backend developer position, you can make it clear in your headline and boost your chances of getting noticed. After that, feel free to fill in the remaining space with other important information. For example, your top technologies or your achievements. You don't have to use up all of the 120 chars, but know that you have them — and if there's something worth mentioning, why not do it?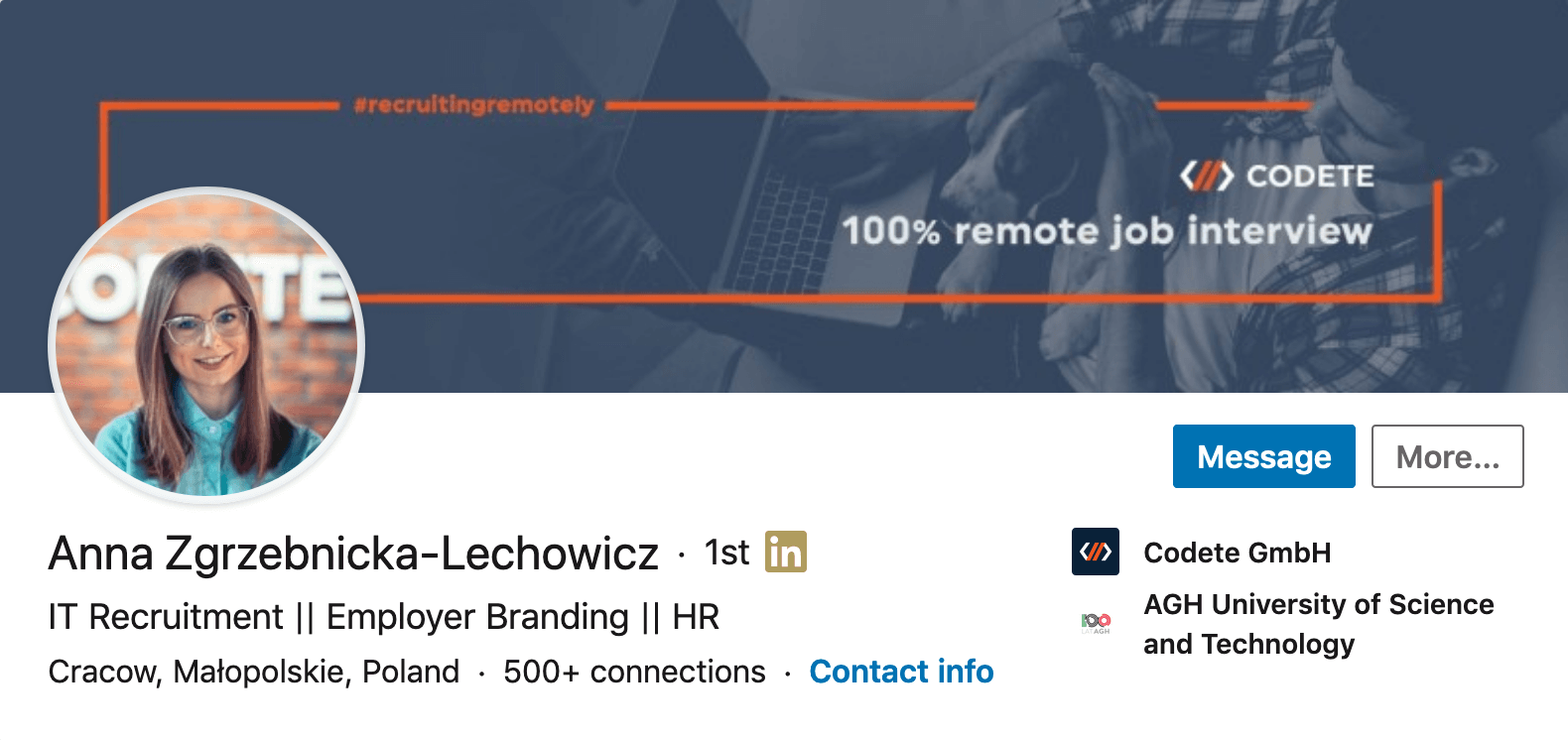 Should your LinkedIn headline say you're open to new opportunities?
You may, but truth be told, including this phrase is a waste of space. Here's an insider tip: recruiters don't use this as a keyword to search for candidates. But if you have four spare characters in your headline, you can try adding the #ono hashtag, which means exactly open to new opportunities (or #pnw for the Polish job market, which stands for poszukuję nowych wyzwań).
How to write a powerful LinkedIn summary?
Your LinkedIn summary is your About me section. What makes it special? Well, you can really make this space about you. The only constraint here is the character limit (2.000 characters). Otherwise, you're free as a bird to show the world what you're made of. In your summary, you can introduce yourself, describe your professional journey and your greatest achievements, and point out your strengths and motivations. This is also the space to write about your plans for professional development.
If you need some language help with your English, run your text through free tools like Grammarly and Hemingway. The former will pinpoint any language mistakes for you. The latter will rate how easy to read your summary is.
One more thing: write your summary in the 1st person, it adds a personal touch.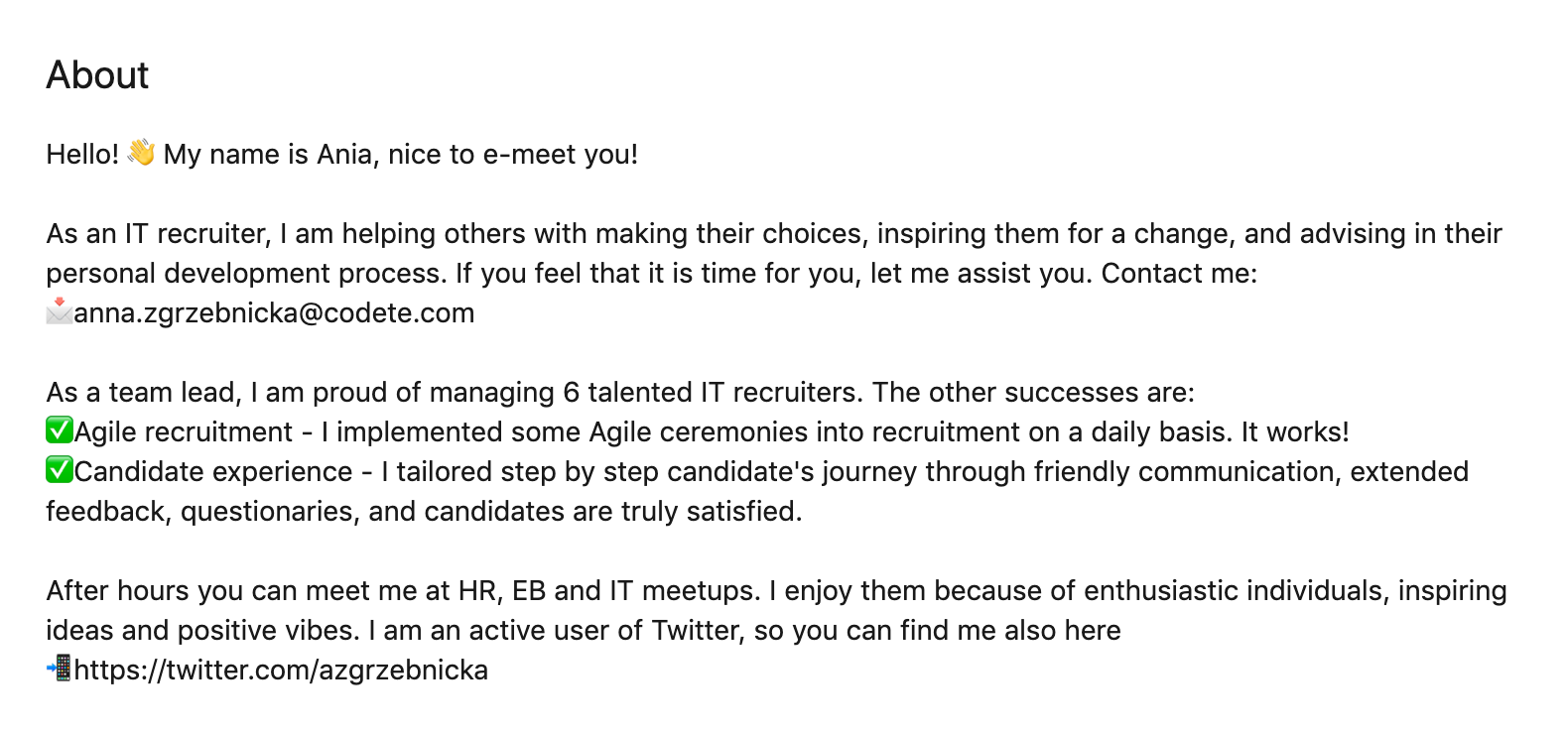 How to use the LinkedIn Featured section?
Have you seen the Featured section on your LinkedIn profile yet? It's relatively new, so you might have missed it, but make sure you take a look. It's the perfect place to highlight your achievements and showcase your work. In the Featured section, you can add your best LinkedIn posts and articles, but more importantly — you can also add links to other websites and media, like images or presentations. That's the right place to link to your Github projects or your Medium articles, for example.
The Featured section is a bit similar to the Accomplishments section where you list your courses, publications, projects, and languages — but more visual. Try to make the best out of both of these sections to double your chances to get noticed.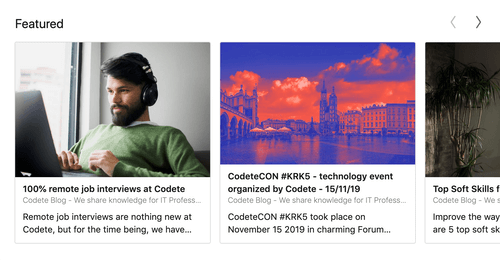 How to improve your LinkedIn Experience section?
The main difference between your LinkedIn Experience section and your CV is that, ideally, your CV should be tailored to each position that you apply for, while your LinkedIn Experience section should be universal. Don't just copy and paste the experience from your CV, be selective. Pick a couple of the most important tasks for each of your past positions, the ones that allow the recruiter to see the bigger picture — don't dwell on details.
It's best if you keep the Experience section conversational and write 1-3 sentences in the first person for each of your past positions, but bullet-point lists will be fine too. Mind you, the keywords here count too, so phrase your experience wisely for your advantage.
How to add the right skills to your LinkedIn profile?
According to LinkedIn, "members with 5 or more skills listed are contacted (messaged) up to 33x more by recruiters and other LinkedIn members, and receive up to 17x more profile views." 
No wonder, since recruiters can search for candidates based on their skills. Yet the number of skills in the Skills & Endorsements sections is not what counts the most. It's key that your skills are relevant to your current position and to the job that you wish to find.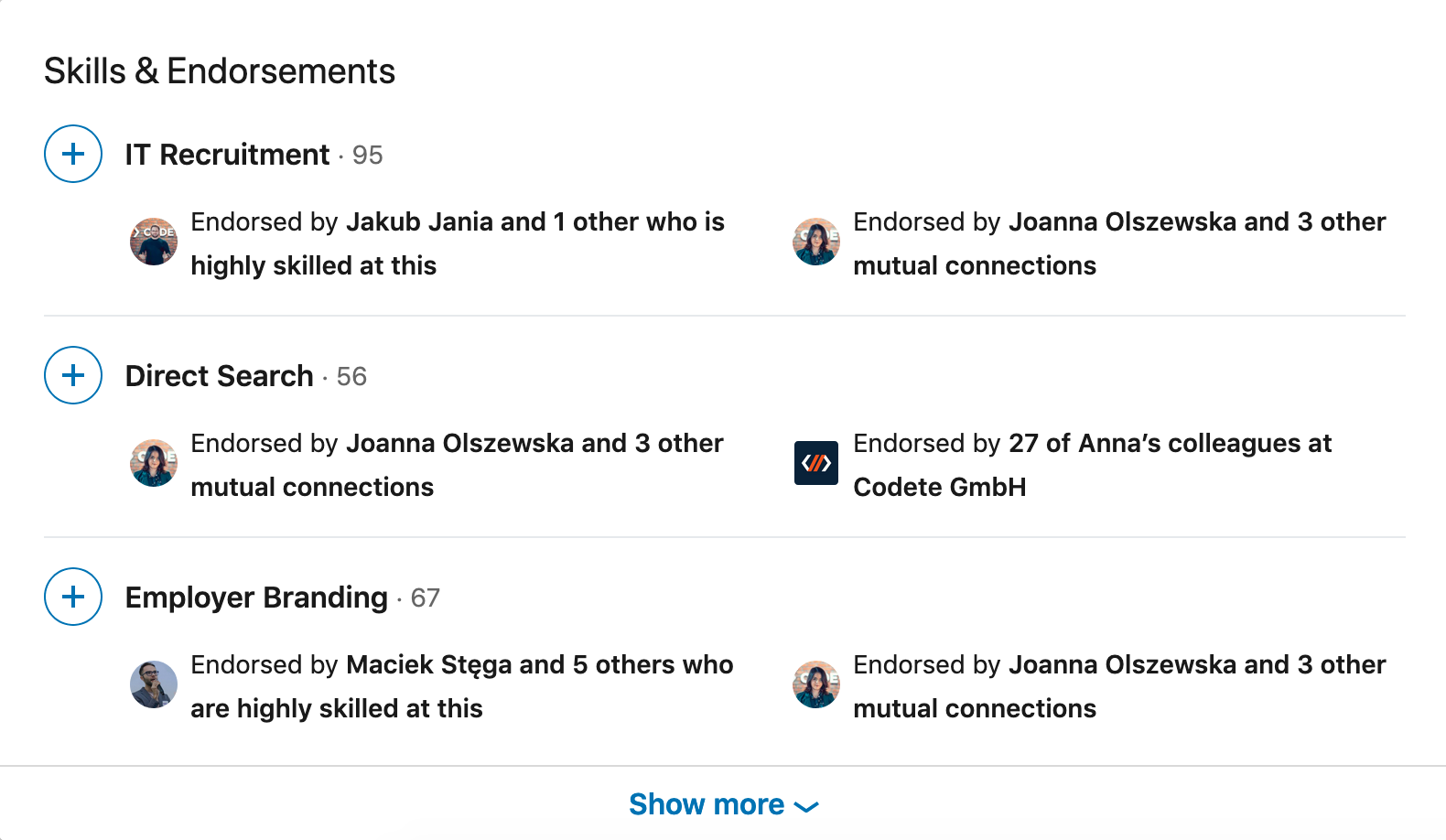 Remember that you can highlight your top 3 skills to make them stand out from the rest of the list. And lastly, don't forget to ask your colleagues for endorsement once your list is ready.
Do recruiters look at LinkedIn recommendations?
Short answer: yes, they do. LinkedIn recommendations are reference letters of the new era, and much quicker than their predecessors, as the recruiters don't have to request them — they're right there, for everyone to read. A few kind words from your former bosses, senior colleagues, or teammates really mean a lot, so don't hesitate to kindly request a recommendation.
Let your LinkedIn network know you're looking for a new job in IT
Once you have a top profile, publish a post to let your LinkedIn network know you're on the lookout for a new position in IT and hope to get hired fast. Don't be afraid to ask your connections for their help in sharing the information. The times are difficult for countless companies around the globe now due to the pandemic, and many skilled specialists have lost their jobs — and not because they were bad at what they were doing. Everybody understands that.
Encourage your network to share your post. The more people know you're looking for a job, the greater the possibility that the right people know it.
One more tip: include the most important information in the first 2-3 lines of your post, so it's immediately visible. Only the first lines will be displayed on other people's feeds without them clicking to see more, so grab their attention while you can. Remember to state the location where you'd like to work and say if remote work is an option.
A relevant picture will help (you can easily prepare a simple graphic in Canva), but don't add your CV.
Protect your privacy, don't add your CV
Even though some people do that, it's a bad idea for you to attach your CV to the post. CVs shouldn't be available for the public, as they often contain sensitive information like phone numbers, addresses, or birthdates. Besides that, they should be tailored to specific job positions. Your LinkedIn profile is more than enough — attach your CV only when you're applying for a job, share your personal contact information only in private messages with recruiters. It's better to be safe than sorry.
Let the recruiters know you're open to job opportunities
And last but not least: let the recruiters know you're looking for a new job. Visit the Settings & Privacy section of your account, enter Privacy, then go to Job seeking preferences and switch on the option.

In the same tab, you can also set your commute preferences.
Edit 15/07/2020: Recently, LinkedIn has added a new possibility for those who've lost their job due to the COVID-19 pandemic. Now, it's possible to share that you're looking for a new job with an #OpenToWork hashtag followed by a special frame over your profile picture. You'll find more info at the top of your Jobs tab.
How to write a CV that IT recruiters will love?
Your CV should provide the recruiter with more details on your experience and qualifications:
Describe your experience in detail. Write about your tasks and responsibilities at each job, describe the projects you took part in, and list the technologies you used.
Name your skills. Make a list of your skills and qualifications. Mind you, writing JavaScript — very good is better than writing JavaScript — 70% or using a progress bar to picture it. The percentages or progress bars may look fancy, but they really don't say much. When you're writing about your language skills, it's best that you name your particular level, for example, English — C1.
Add a link to your Github profile. It's a great and simple way to showcase your work and give the recruiters (especially tech recruiters) insight into your coding skills.
Don't forget about your achievements! If you've attended relevant courses, speak at meetups and conferences, or have your own tech blog — don't forget to mention it. Additional activities that show you're engaged in what you're doing and your willingness to share your knowledge with others are always welcome and will earn you some bonus points.
As we've already mentioned, it would be great if you could tailor your CV for each position that you apply for. A little goes a long way, changing a few words here and there to make it more relevant to the particular job posting may work wonders. Why? Well, as a candidate, you most likely appreciate personalized contact. It should come as no surprise to you then that submitting a made-to-measure CV will likely resonate better with the recruiter and your potential employer.
Job search sites for software developers and other IT professionals
Browse job search sites, IT job boards, Facebook groups, and the LinkedIn Jobs section regularly to stay up to date with new opportunities. In most of these places, you can turn on notifications and receive info when an interesting job opportunity comes up.
Here are a few places you may want to browse:
And if there are companies that you'd really like to work in, but they're not recruiting at the moment — don't hesitate to be proactive, send in your CV, and describe your dream role. Even if they can't offer you anything at the time, they'll most likely be happy to keep your CV on file and contact you when they start searching for new employees in your area of expertise.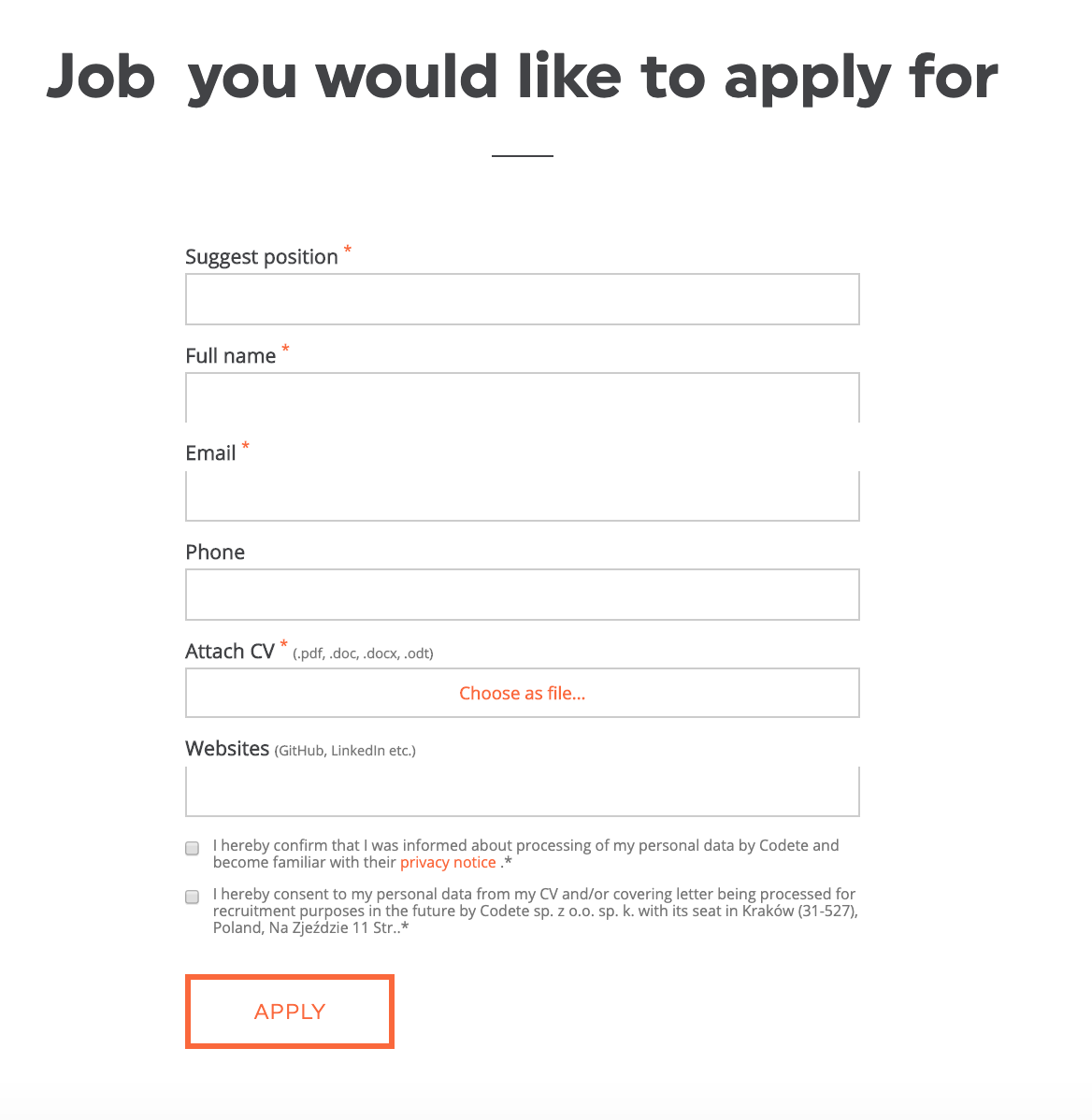 That's all, folks! We hope that this article will help you get hired fast. We're keeping our fingers crossed that you find your dream job in IT soon.